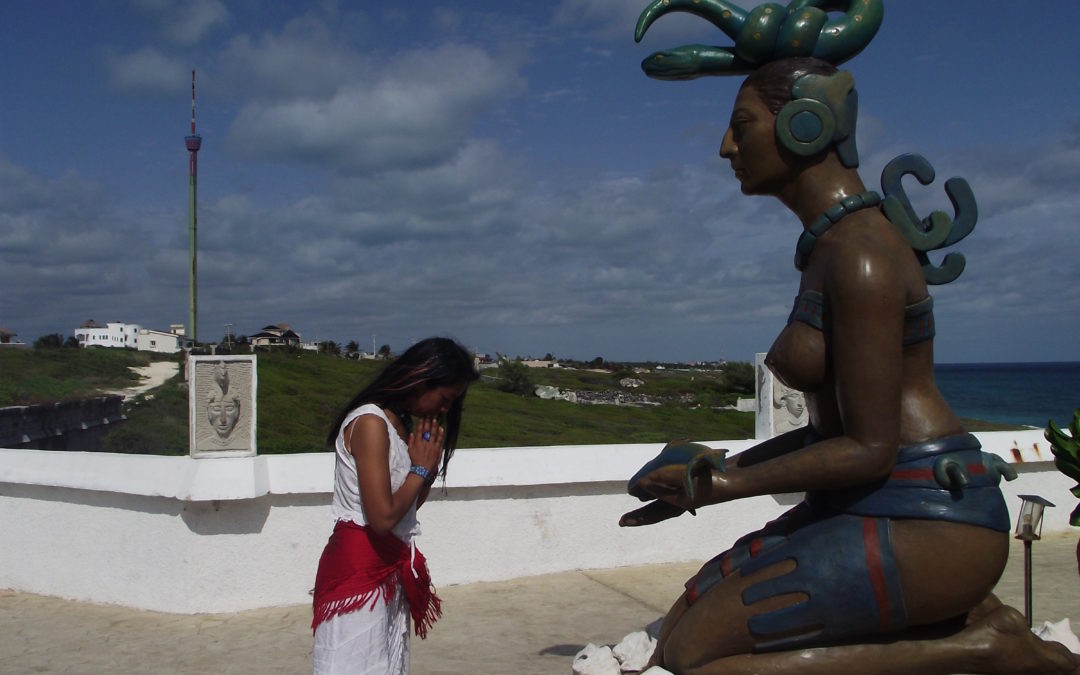 Ix´Cheel or Ixcheel, the feminine energy in the Mayan Cosmos.
Cozumel was a place of worship for the Divinity Ix'Cheel or Ixchel.  She is related to the moon, fertility, rains, medicine, divination and childbirth.  Grand Mother Ix'Chel is a beautiful goddess who can teach us to honor our cycles, our darkness, our shadow and our great light!
Ix'Cheel represents the feminine principle of the cosmos and together with her partner Itzamna, are the creative energy of life on Earth. She is the guide of the wise women, of those who heal, of those who read the destiny of the newborns; Of those who weave and narrate cosmic stories in their fabrics.  Ix'Cheel is the Mayan grandmother, guardian of the female mysteries, guardian of the pregnant women, the newborn children, the moon, the medicine, the medicinal plants, the water that cleans and purifies. Ix'Cheel is the feminine divine energy that creates life and also destroys it, specially when she represents the energy of the water. She was asked for rainwater in times of drought and she was also asked to stop the force of water that destroyed houses and crops.
She is the guardian of sacred jade, of life, of the heart of her priestesses who honored her in her two sanctuaries, in Isla Mujeres and Cozumel. There is no doubt that Ixchel and Cozumel have many secrets to unveil.  Recently women from various parts of the world have restarted the pilgrimages to consult the energy of the oracle related to health, fertility, initiation into the medicine, pregnancy and finally, with the weaving of life.