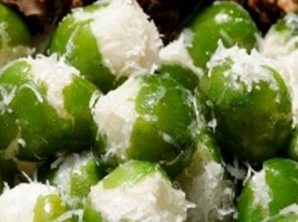 The beautiful city of Puebla is known for many things: colonial architecture, museums, defeating the French on Cinco de Mayo — but my favorite is the food. Last year when I was in Puebla, we went to the cluster of stores on Avenida Seis Oriente, which I have nicknamed "The Street of Sweets." Both sides of the block are lined with stores selling candies made in Puebla. I indulged, as usual! Here are five of my favorites:
1. Camotes!! These sweets are made from sweet potatoes (so maybe they are even good for me?) and flavored with pineapple, strawberry, lime, orange, and many more.  The candies are rolled into tubes and wrapped in wax paper. The origin of these soft and scrumptious candies stems from the Santa Clara convent, and they are a sweet blend of Indigenous (sweet potato) and European influences.
2. Tortitas de Santa Clara!! These cookies are solely from Puebla, again created by the crafty nuns of Santa Clara. The story goes that a nun was looking for new combinations to create a dessert from pepita, or pumpkin seeds. The cookie base is made of flour, but the frosting is a  mix of pumpkin seeds and milk. Here we see the tortitas arranged on a beautiful Talavera plate — fitting for these delicious cookies.
3. Mostachones!! These famous candies are made from dulce de leche (slowly cooked and sweetened milk), flavored with cinnamon and vanilla, and topped with a pecan. These fudge-like confections have a number of  origin stories — one is again the Nuns of Santa Clara, but another is a love story. Legend has it that a wealthy cattleman nicknamed "Mostachon" was enamored with a woman, but she did not return his affection. He decided to create a candy for her from the milk of his own cows. After trying the candy, of course she fell madly in love! And after you try them, you will too! 
4.  Los Borrachitos!!  These unique candies also originated from the nuns at Santa Clara as well as Santa Rosa, and they represent a blending of indigenous and colonial traditions. These milk-based candies are covered with powdered sugar and infused with flavors such as lime, pineapple, strawberry and liquors like champagne and rompope. Rompope is an eggnog style liqueur originally from the convents of Puebla, with rum as its main ingredient. Hence, the borrachitos (little drunk candies!) get their name.
5. Los Cocos!! Absolutely my favorites, these fabulous confections are made from candied lime peels and stuffed full of sweetened coconut. These are delicious and refreshing. I usually inhale half a dozen on-site at the store!
To eat these candies in person, join Sacred Tours of Mexico in Puebla November 2017. For more about the sacred side of Mexico, join our Facebook group and sign up for our newsletter. 
Award winning writer Anne Key is the co-founder of Sacred Tours of Mexico. She has been traveling and researching in Mexico since the late 1980's. She is the author of two memoirs (Desert Priestess: a memoir and Burlesque, Yoga, Sex and Love: A Memoir of Life under the Albuquerque Sun) and is a co-founder of Goddess Ink.