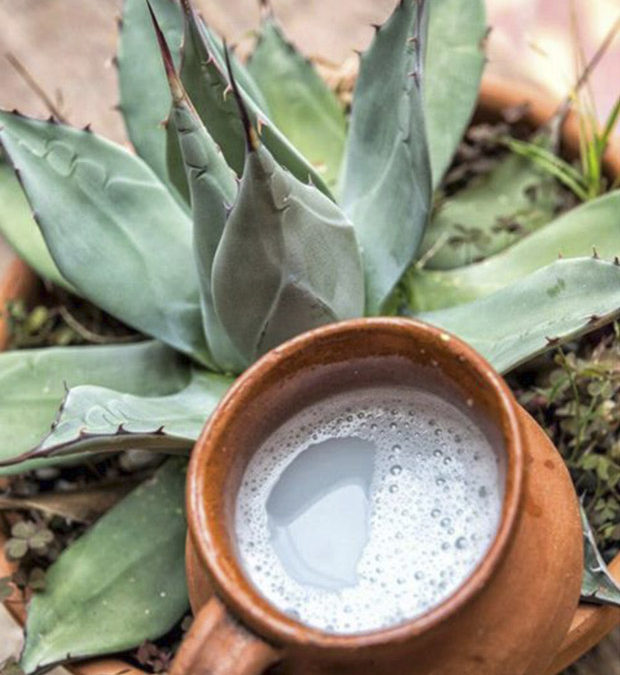 Pulque is an ancient fermented beverage — slightly alcoholic — made from the maguey plant. The drink was considered sacred and used in ritual.
Mayahuel was the Goddess of the Maguey (see image at left from the Codex Laud) and this sacred drink was a gift from Her. During the Aztec rule, pulque was often only for the higher classes. But after the Spanish conquest, it was available to the masses.
Extremely popular in the 1800's, pulque became less so in the 1900's, partly due to the introduction of beer and soft drinks. However, it is experiencing a renaissance with small-batch breweries all across Mexico.
The drink is considered curative, helping everything from digestion to diabetes.
And…for those of you going on our Mexico City tour, we will be stopping by the pulque bar Las Duelistas:
Another bar in the Centro Histórico – Las Duelistas , founded in 1912 – has been transformed. Pulque is still scooped out of wooden barrels, but psychedelic murals adorn the walls, and hipsters outnumber old-timers. The drink is made in the age-old way: sap from the heart of the plant fermented for a week or two, then mixed and muddled with all manner of fruits, vegetables and grains – perhaps guava, celery or oatmeal – in a curado. (Read full article here.)
Last Wednesday, the flavors were: melon, strawberry, oatmeal, celery and Guayaba. Doesn't that sound refreshing?